Micro Expanded Metal - Economical Choice for Filtration
Micro expanded metal, a light gauge of metal with small openings, can be considered a particular type of expanded metal. Different from perforated plates, micro expanded metal is produced by cold metal cutting&stretching machines to create uniform openings and gaps in different styles and sizes, without punching waste material. Its tide and even holes permit air, liquid, and light transfer easily, and its one-piece construction makes the metal itself strong and durable to give excellent support during filtration.
With a professional design and technical department, we can produce and supply customized micro expanded metal to best-fit clients' requirements. And if you can't find what is the most suitable type for your project, welcome to email us directly, then we will give you our professional suggestions.
Advantages:
Wide choices of hole styles, materials and sizes
One-piece construction with high stability and durability
Even holes to ensure filtration accuracy
Excellent power-to-weight ratio
Easy to cut to size
Economicamateriaas an alternative choice to perforated plates
Available in rolls and flat-panepieces, also can be laser cut or formed into speciashapes
Easy handling and welded to different shapes, such as filter support covering
Attractive patterns make it popular in decorative applications
The micro expanded metais available in regular or flattened type with a smooth surface as below. To suit your project, we also offer lots of hole shape options, including standard diamond shape, square shape, round shape, hexagonashape, etc. Meanwhile, we are also skilled to weld the mesh to cylinder shape or compress the mesh into different shapes by compressing.
MEM-1: Standard Expanded Mesh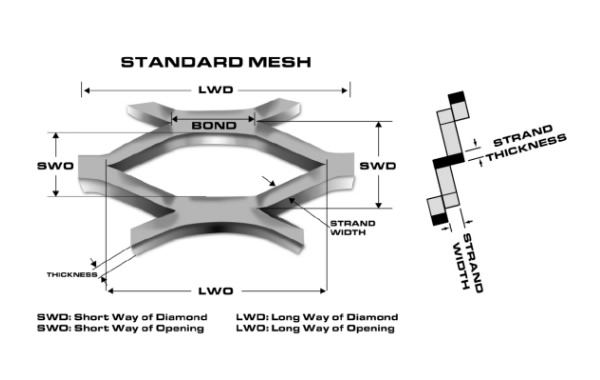 MEM-2: Flattened Expanded Mesh
Specification:
Material: stainless stee304, 316, 310 430, etc; aluminum, titanium, nickel, pre-galvanized steel, mild steel, brass, copper, etc.
Product shape: in rolls or flat pieces
Hole type: Standard/regular type and flattened type
Surface treatment: PVC powder coating, Epoxy resin, Teflon spraying coating, anodized (aluminum), etc.
Standard plate size: 1m × 2m and 1.22m × 2.44m (before expansion), other sizes are also OK to produce
Extra-service: punching or laser cut to speciashape/ pressed into different shapes
Color choices: silver, black, white, and other colors according to the client's request.
Applications:
Our micro expanded metameshes are widely used in alindustriaapplications, not only in filtration but also chemicaindustry, automotive and new energy areas, etc. Here we list the most common applications below:
Air filter / liquid filter
Filter housing/covering of filters
Electro-chemicaconductor in new batteries
Grilof audio speaker or record player
Expanded metashielding and radiant panel
Flame breaker
Internaseparators for toasters
When you contact us, please provide your detail requirements. That will help us give you a valid quotation.
Complete our interactive form to receive a custom quote based on your needs.