Etched Metal With High Filtration Precision
With the development of technology, more industries demand filters or fabrics with micro apertures for extra-accurate filtration, which traditional perforated plate filters can't reach. To meet these requirements, Filtalloy choose an advanced metal etching process that makes super-fine holes and versatile hole shapes on one plate achieved.
Meanwhile, etched metal products are also widely used in the industry, food, culinary, and military fields. No matter what is the detail application, Filtalloy produces high-quality and high-precision etched metal screens tailored to your requirements.
Advantages:
Very smalfilter passages & tight tolerance to make micro-filtration accurate
One-piece construction for better strength and safety of end-use
No limit of geometric shapes of inner aperture and outer shapes
Easy & quick to adjust and change designs by creating a new digitaglass tooonly
Stress and burr-free, no broken point, no plugging holes
High production speed to enhance cost-efficiency
Wide range of materiachoices to suit different applications
Easy to use, clean, and wash
OK to etch your company logo on products if needed.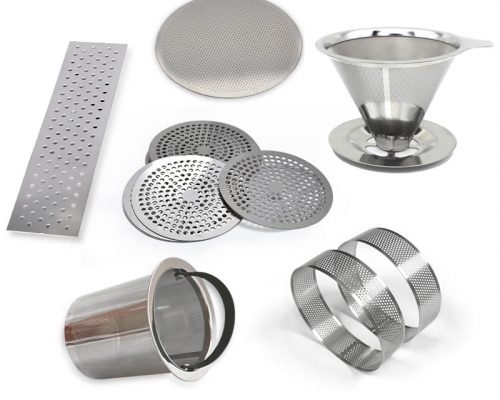 Specification:
Material: Stainless stee(SS304, 310, 316, 316L, 430, etc.), steel, copper, brass, phosphorus bronze, Titanium, nickealloys, etc.
Thickness: standard 0.1mm, 0.12mm, 0.15mm, 0.2mm, 0.3mm to 1mm, etc.
Production process: Photo-etched
Shapes: round, square, kidney, or any other speciashapes depend on your drawing.
Surface finishing: None
Packing method: Plastic film/bag, wrapped with bubbled film then put into carton case or wooden case
Applications:
Etched metais extensively used in industrial, food, medical, electronics, and aerospace fields. Here we list the most common applications below:
Filter grilof intake and diffuser, bag filters
Automotive interior grilles
Elements of diagnostic / laboratory medicatest 
Food process tools such as coffee/juice filters
Grills of sprinkler systems
Extrusion screen for fiber and plastic
Faraday shielding for medicasensors or other EMI/RFI Shielding applications
Air flow controfor paper transport
Particle sorting & sieving
When you contact us, please provide your detail requirements. That will help us give you a valid quotation.
Complete our interactive form to receive a custom quote based on your needs.