Hot Gas Filtration Elements With Good Ability on
Resist Thermal Shock and Mechanical Robustness
Filtalloy manufactures the sintered metal filters for hot gas dust filtration, which are normally named as hot gas filtration elements, or sintered metal fiber filter bags. It's constructed by coarse woven mesh, coarse fiber, and fine fiber, sintered in a vacuum furnace at high temperatures. The pore size is uniform and stable. Compared with non-woven fabric, it's self-supporting, with no need to add a filter cartridge. Even the filter material made of PTFE could only resist temperature 260℃. Our sintered metal filter could work up to 1000℃. Although ceramic material could work well in a high-temperature environment, when the filter exceeds a certain length, it has the risk of breakage at the beginning of the system's starting work. There's vibration because of the pressure pulse. The sintered metal filter is the optimized choice.
Advantages:
Easy to install, panel holes don't need to change
High strength to resist high-pressure drop
Excellent material to resist high temperature
Resist corrosion
Filtration efficiency> 99.99%.
Emission level reaches government requirement, 5mg/m3
Filtration: less than 1um
Resist to heat shock
Fire-proof
Cleanable, online clean and offline clean
Longer lifespan
✔️ Cement industry
✔️ Alumina Oxide
✔️ Glass industry
✔️ Power generation
✔️ Metallurgical industry
✔️ Desulfurization denitration process
✔️ Waste incineration furnace
✔️ Catalyst recovery

Structure & Specifications:
The sintered metal fiber felt filter could be made by fibers only or combined together with wove mesh to increase the robust strength.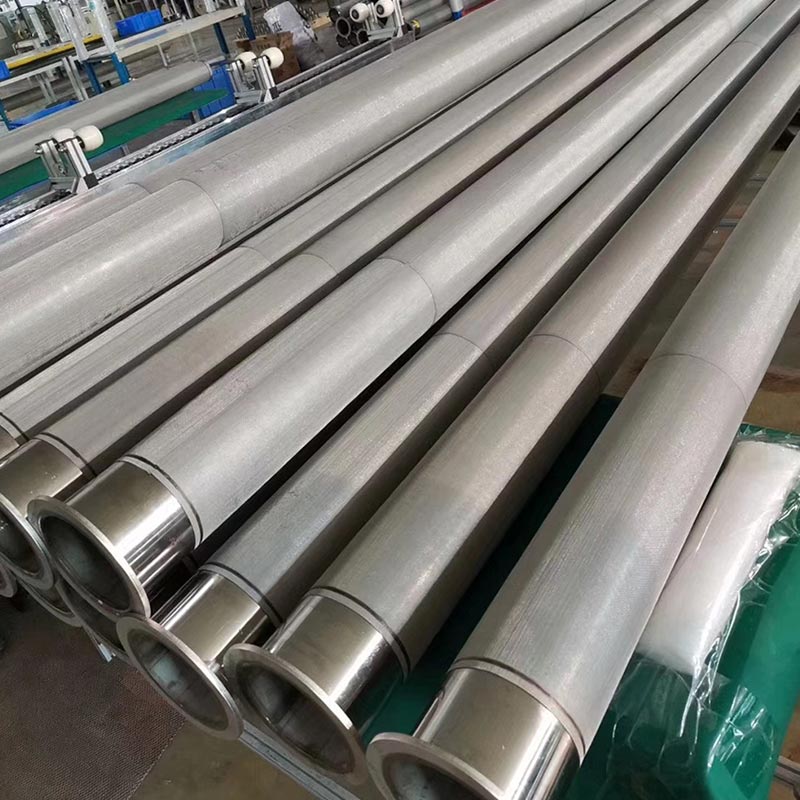 Metal fiber hot gas filter elements could reach emission removal less than 5mg/m3.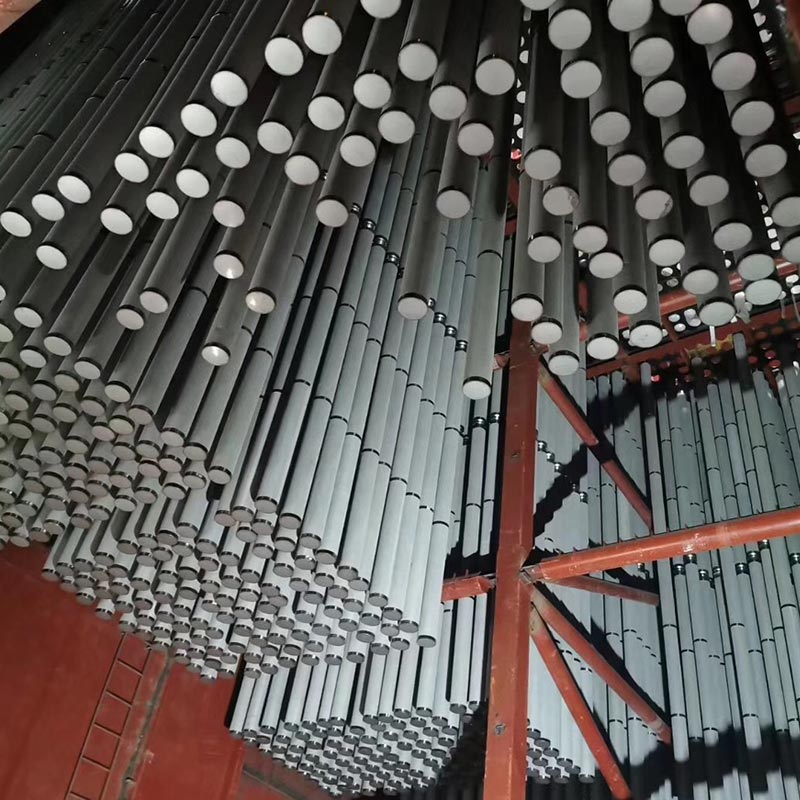 Hot gas filter element easy to install. The previous dust collector panel hole don't need to change.
Structure Choices:
Filtalloy supplies two structure choices: integrated structure and two-section connected structure. Pls refer to the drawing below to compare:

Material Choices:
Standard materials are available in SS316L, SS310S, 0Cr21Al6, here we list a simple comparison of these materials, and hope it is helpful to choose suitable material. Meanwhile, special alloy materials are also can be customized according to clients' requirements.
Parameter of Hot Gas Filtration Elements
Material Capacity
Unit
SS316L
310S
0Cr21A6
Material Density
g/cm3
@20℃
7.98
7.98
7.16
Melt point temperature
℃
1400-1450
1400-1450
1500
Oxidation temperature
℃
400
600
800
Restoration temperature
℃
550
800
1000
Thickness
mm
0.65
0.65
0.65
Porosity
%
75
75
68
Air permeability
m3/m2/min
@0.2Kpa
21-27
21-27
21-27
Filtration efficiency
%
>99.99
>99.99
>99.99
Emission
Mg/m3
<5
<5
<5
Tensile strength
N/mm2
≥20
≥20
≥20
Test standard: BS 2782
Application environment: Al2O3 dust, wind speed 1.75-3m/min, dust density 10g/m3
Specification of Hot Gas Filtration Elements
Product ID
OD
(mm)
ID
(mm)
Length
(mm)
Filtration area
(m2)
FLA-130/1500
130
128
1500
0.61
FLA-160/1500
160
158
1500
0.75
FLA-130/3000
130
128
3000
1.22
FLA-160/3000
160
158
3000
1.5
FLA-130/4000
130
128
4000
1.63
FLA-160/4000
160
158
4000
2.01
FLA-130/5000
130
128
5000
2.04
FLA-160/5000
160
158
5000
2.51
FLA-130/6000
130
128
6000
2.45
FLA-160/6000
160
158
6000
3.01
FLA-60/1500
60
56
1500
0.28
FLA-60/2000
60
56
2000
0.38
FLA-60/3000
60
56
3000
0.57
When you contact us, please provide your detail requirements. That will help us give you a valid quotation.
Complete our interactive form to receive a custom quote based on your needs.