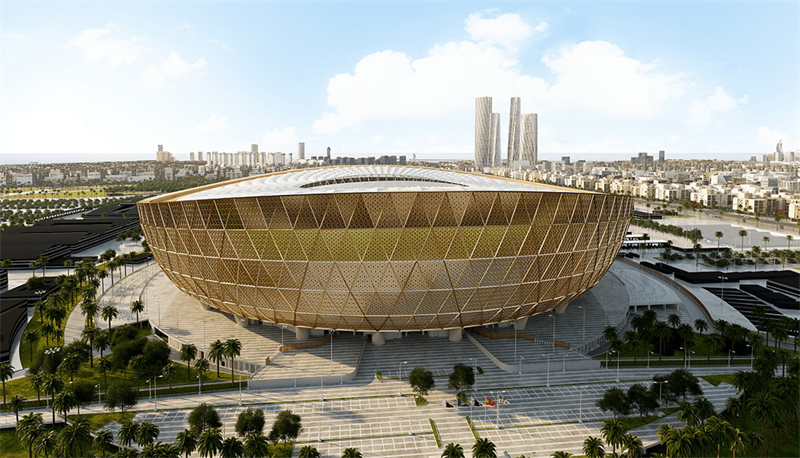 Recently, the perforated metal products produced by Hengshui, Hebei, arrived at the Qatar World Cup home venue and will be used for the top of the stadium.
In late June, Hengshui got the order for the Qatar World Cup. This is a perforated decorative panel product, including more than 200 specifications, a total of more than 9,000 square meters, and more than 4,100 plates. The size of each panel is different so the mechanical CNC programmers need to overcome the technical problems. After continuous efforts, all products are well finished within just 20 days.
To survive, enterprises must take high-end routes. They increase investment in science and technology research and development, and successively launched advanced products such as aluminum expanded ceiling decoration products, aluminum panel facade, and cladding, and entering high-end markets at home and abroad. The products are applied to the Beijing Daxing Airport Terminal, the Macao Port Facade of Hong Kong-Zhuhai-Macao Bridge, the Hong Kong opera center cladding, and the exterior wall of Australian hospitals.
Wire mesh and perforated mesh products are the main industries of Hengshui, Hebei. In recent years, the county has continuously accelerated scientific and technological transformations to benefit from technology. The product has developed into 6 major series, more than 400 varieties, and more than 6,000 specifications. And the products are exported to more than 190 countries and regions. Hengshui mesh products are widely used in various industries such as petroleum, chemical, automobile manufacturing, animal husbandry breeding, as well as high-precision fields such as aviation and aerospace, and enterprise realizing the transformation from traditional handshops to modern high-tech manufacturing already.