Find The Best Manufacturers Of Sintered Wire Mesh
Several mesh layers of laminate sintered wire mesh in the vacuum sintered furnace. With the good ability to resist high-pressure drops, it's widely used in Aerospace, Pharmaceutic, Chemical, Mine, and so on.
Here we list top 10 manufacturers of sintered wire mesh for your reference.
1.Dorstener  Drahtwerke

Country: Germany
Dorstener Drahtwerke start in the 1918 year. It began with the wire business. Then with years of development, it also specializes in sintered wire cloth laminates. They have state-of-art technology to ensure production efficiency. Now they have developed into the reliable supplier to serve small and large companies. Their market includes oil and gas, food and beverage
2. Filtalloy Technology Co., Ltd
Country: China
Filtalloy company specializes in manufacturing different sintered wire mesh in sheets and cartridges. The company has a high-tech vacuum-sintered furnace and welding machine. The multiple processes is to ensure the qualified products. They have a professional technical team to design, develop, and produce. Now they are the leading distributor of pharmaceutical, chemical, and mine industries.
3. Porvair Filtration Group

Country: US
Porvair Filtration Group is the international leader in filtration and separation. They research and develop innovative materials with high performance. With more than 50 years of experience, they supply tailored products on metallic and cleanable filters, including candle filters, filter elements, and cartridge, and leaf filters. These products are applied for Aerospace and Defence, Nuclear, Pharmaceutic, and so on.
4. Pall Corporation

Country: US
Pall Corporation is the leading company in separation and filtration in the world. They supply the Rigimesh sintered metal mesh filter cartridge. They have a first-class design and developed team and state-of-art equipment to help customers solve problems. Their patented process ensures the filtration and product pore size distribution evenly. The products are applied in bulk in chemical and pharmaceutical purification.
5. Bopp + Co. AG

Country: Switzerland
From design, manufacturing, welding, and customer expertise, since the 1881 year BOPP company fabricates many different types of sintered wire cloth and cartridges. They have an advanced sintered machine and welding machine to ensure qualified products. They supply tailored goods according to customers' broad requirements. If you need customization for sintered wire cloth or cartridges, they could meet your demand.
6. Relevant Industrial
Country: US
Relevant has an experienced technical team to solve customers' problems. Each solution is customized for each demanding situation. Their switch filtration is mainly for the replacement of brand filters. The experienced technicians guarantee the alternative filters' efficiency and function the same as the original filter.
7. Porous Metal Filters Inc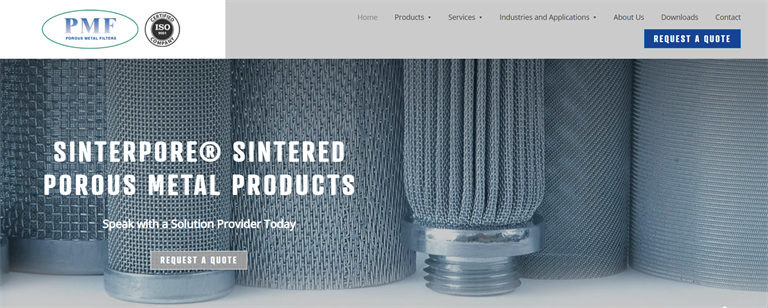 Country: US
Porous Metal Filters Inc belongs to  Dorstener Group. They have accumulated more than 120 years of experience on sintered wire cloth laminates from filter material, and filtration experience to filter fabrication. They supply products for high-temperature and corrosion environments, including aerospace, automotive, chemical, oil & gas, and so on. With skilled technicians and advanced machines, they guarantee the optimum filtration ability on pore size and permeability.
8. Parker Hannifin Corporation

Country: US
With decades of experience, Parker company has become the leading manufacturer in the filter and separation field. With state-of-art production equipment and an experienced technical team, they supply the sintered laminates not only meeting but also exceeding customers' expectations. Their service is also extensively approved by clients.
9. Dorstener Wire Tech
                                                                                                         Country:
Country: US
DWT company is committed to providing customers with premium sintered wire cloth products and more satisfying service than expected. From design to fabrication, they fully control every step within international standards. With the guaranteed products and economic prices, they won a good reputation from customers. Now they grow into one leading manufacturer.
10. Averinox Separation Products

Country: Netherlands
With more than 20years of innovative approach and consistent effort, Averinox company could supply customers the application analysis and technical support on sintered wire mesh. They supply 24-hour service to maximum reduce customers' downtime. They produce goods with different materials, thicknesses, permeability, pore size, and mechanical strength. If you have any requirements, they could tailor the products to meet your demand.